Our Pupil Premium Policy can be seen on our policies page.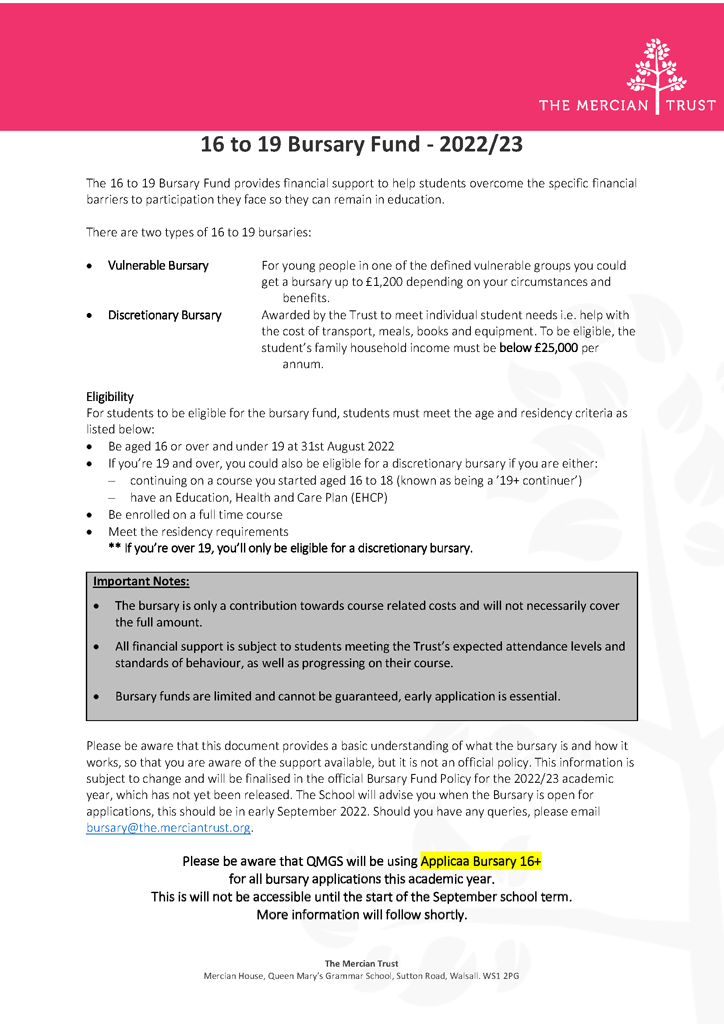 16-19 Bursary Fund Policy 2022-2023 (DRAFT)

Click Here to Apply for Financial Assistance
Our Pupil Premium Policy can be seen on our policies page.
Bursary Application
QMGS believes everyone should have access to an outstanding education. Our bursaries are awarded in cases of financial hardship as every student should be able to realise their potential.

The Department for Education established the 16-19 Bursary Fund in 2011. The aim of the fund is to help 16 to 19 year olds continue in education, where they might struggle for financial reasons. A bursary is directly related to the income and financial resources of the student's family.

We would encourage you to talk with your family and decide if applying for financial support during your sixth form journey at QMGS would be beneficial.
You, the student would need to apply but will also need the support and some information from your family. It would be a collaborative approach.
Follow this link or QR code to create a login and start the application process.
The application form should be "open" by Wednesday 7th September, and we encourage you to apply as soon as possible. Please use your school email address.
If you have any questions, please pop into the Welfare hub to see

Mrs Youngman or to the Sixth form centre to see Miss Weston.
Alternatively, email any questions to bursary@qmgs.walsall.sch.uk

You could qualify for a bursary if you are a student who has previously qualified for free school meals or were a pupil premium student. You may qualify if your household income is lower than £25,000.