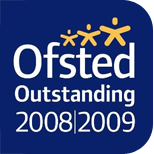 We were visited by a team of inspectors from Ofsted in November 2008 and were delighted to be judged to be as an outstanding school. Here are a selection of comments from the inspectors' report:
"In the short time since his appointment, the headteacher's drive and vision are having a significant impact on the life of the school"
"Standards, which are already very high, are continuing to rise as more students achieve the very highest grades"
"Students… go on to make outstanding progress throughout their time in school"
"The outstanding range of extra-curricular opportunities enhances this and students are well served by the challenging courses, which motivate them to succeed"
"The school has made significant improvements since the last inspection.  It has excellent capacity to improve further"
"The quality of students' personal development and well-being is outstanding. They are enabled to learn in a safe and well-ordered environment"
"Students say how much they enjoy most of their lessons and their time in school and this is confirmed overwhelmingly by parents"
"The headteacher is providing outstanding leadership and direction for the school. The senior leadership team have a shared sense of the headteacher's vision"
The full report can be downloaded here.
You can access the Parent View website here.