We are delighted to announce that we've been selected by The Cricketer as one of the Top 100 Schools in the Country for Cricket in their publication entitled 'Good Schools Guide 2019'.
The publication of this top 100 follows an exhaustive process that saw more than 350 schools submit entries to be included in the guide. All entries were judged against an extensive set of criteria which included details on facilities, fixture programmes and coaching schedules. This is a remarkable achievement for the school as the guide only included 13 state/state grammar schools, with the remaining successful entries from independent schools.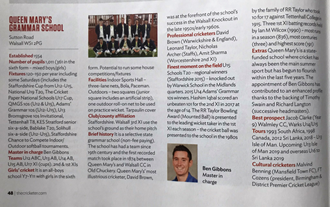 Head of Cricket Ben Gibbons commented: "This is a remarkable achievement and we are incredibly proud of our inclusion in the Good Schools Guide for 2019. It would be amiss to overlook the valuable contribution of various members of the Games Staff who continue to give up their own time to take various fixtures and for the support for successive Headmasters who have provided the platform for cricket to flourish within the school. However, we will not rest on our laurels and it was great to see the support from both pupils and parents at the inaugural Cricket Awards Evening in October which raised £1274.50, as we endeavour to improve our current cricketing facilities within the school".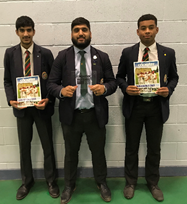 The 116-page guide is bumper-packed with the regularDecember issue of The Cricketer (available on the newsstand from November 23rd).As well as appearing in print alongside the world's No.1 cricket magazine, theguide will also be made available on The Cricketer website from Friday December14. For more information on the guide, please visit:www.thecricketer.com/schoolsguideThis news caps a fantastic year for QMGS Cricketin a season in which over 120 fixtures were played (1st XI – U12,A/B Teams) including Saturday Cricket Fixtures for the U12s/U13s. Moreover, theboys were entered into various tournaments such as the The Cricket PaperNational Schools U17s Cup, KES Stratford Senior 6-a-side Competition, QMGS 10sTournament (U12 & U15), Solihull 6-a-side Competitions and the inauguralU13 Isle of Man Cricket Tour. From a team perspective, the U15s were thestandout side, reaching the final of the Staffordshire Cup, winning the QMGS10s Tournament and representing the County at the Regional Stage of theStaffordshire Chance to Compete Tournament. The U13s were also victorious atthe Tettenhall T-8 Tournament. Individual highlights include: Jacob Clarke(Y10) was selected to the Warwickshire